Aerosol dispensers
Working with the primary goal of preventing technical problems with new and existing products to ensure the safety of the aerosol dispensers industry.
Aerosol dispensers are the most technical packaging available.  
All the technical details that need to be controlled, in a very large industrial supply chain, must be realised so that, in the end, users can simply press the actuator of an aerosol can and the product is stored and dispensed correctly. 
First, it is necessary to ensure that the aerosol dispenser as a form of packaging is perfectly safe and remains stable over time. Stability of the packaged formula and stability of the integrity of the packaging. For cosmetic products, we often talk about guaranteeing a product for a period of 3 years.
Second, all of this must be guaranteed on a mass production scale. It is estimated that in 2019, 15.5 billion aerosol dispensers were produced worldwide, of which 5.5 billion were produced in Europe. 
Composition of an aerosol dispenser
To make an aerosol dispenser, you need to master a formula, a propellant gas, a can, a valve, an actuator.
It is also necessary to master the filling process, the sealing parameters, i.e. the valve-Can assembly, the valve gasket compression and the Clinching specification, not forgetting all the filling parameters.
All of this works thanks to defined specifications, norms and standards, but also thanks to specifications safety margins that this industry has set for itself for decades.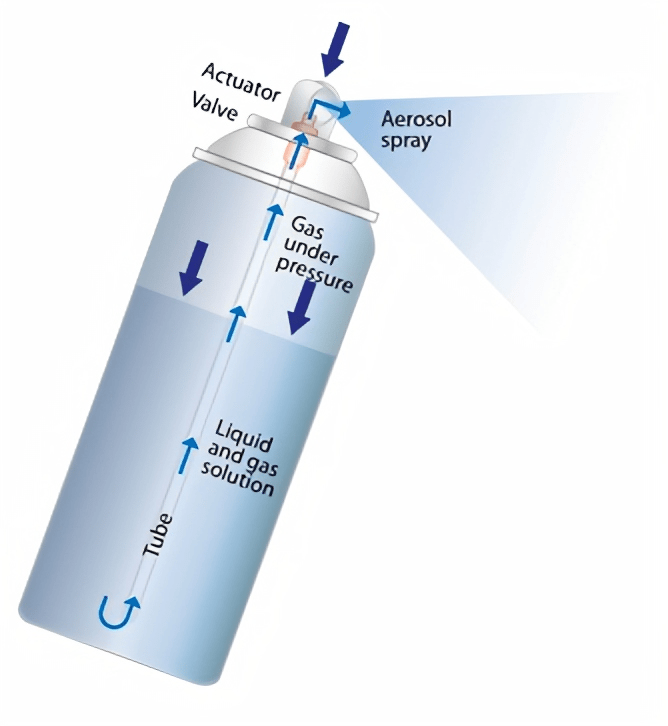 LEREM's expertise
There are not many places of expertise able to synthesise all these constraints. LEREM tries to do this as well as possible, thanks to the means at its disposal.
These various means are :

Testing or stressing 

Filling 

Accelerated ageing tests by impedance measurement

Storage chambers from 0 to 50°C

Standard or customised flammability testing facilities for comparison purposes.

Virtually all the precision measurement equipment required for aerosol dispensers' assessments : 

Weight +/- 0.003g

Pressure +/- 0.01 bar

Temperature +/- 1°C

Dimensional +/- 0,01 mm

All the adapted cutting equipment

The possibility to carry out resin studies 

Software for measuring crimping dimensions

Vision system to observe details of valve-housing assemblies.

Spray pattern measurement

Clogging tests

Laser particle size measurement of spray particles – Malvern Spraytech 2000. 

By the fact that LEREM has a recognised level of expertise and years of experience in this field. 

Its knowledge of aerosol dispensers' industry supply chain and its network within this industry.

Its close relationship with CFA: French Aerosol Association and their agreement established in 2021 for the next few years. 

By the fact that it is an association of public utility, which guarantees its discretion, objectivity, and independence. 
More details about this subject on the dedicated page.
LEREM represents the industry and participates to fundamental studies 
The ECORBIO project, which aims to study the corrosion behaviour of piping with heat transfer fluids for the biorefinery circuits of the future using impedance measurement. In conjunction with INERIS, UTC, CETIM, UPJV.
MPE (Metal packaging Europe) working group and the compatibility studies contained in the passivation processes for tinplate, which by 2027 should make it possible to use only chromium VI-free passivated tinplate. In the field of aerosol dispensers, this concerns tinplate can and valve mounting cups.
The GDA (Gesamtverband der Aluminiumindustrie) supply chain meeting and the many questions raised by the use of alternative coatings to phenolic epoxy coatings. In the field of aerosol dispensers, this concerns aluminium aerosol cans. 

Various in-depth studies on existing aerosol dispensers' flammability results, some of them linked to INERIS, which tend towards new gases development. 

The OLIGO project – a very recent ANR study on the NIAS for new internal coating generation in conjunction with LABERCA and INRAE.
Standards at national level at AFNOR (Commission de Normalisation AFNOR/H08F CN8 Emballages), at European level CEN (TC261/SC5 emballage métallique), at international level ISO TC52 (light gauge metal containers).
Accreditation of LEREM by the Ministry of Ecological Transition (DGPR) with regard to transport of hazardous materials.  
Parc industriel Européen

Les marches de l'Oise

Laboratoire LEREM

100 rue Louis BLANC

60160 Montataire (France)
Phone : 03 44 28 56 30
Cellphone : 06 37 05 21 94 
Email address: laboratoire@lerem.org